The Snowbirds come to Page
Tues. April 29th, 1997
Gates open at 3:00pm
Adults $4 Children 14 and under $2


---
Come fly with us
First you will see the twinkling of nine lights in the distance and then
you will hear the voice of Team Lead say, "Snowbirds, smoke on"
which is just the beginning of a 30 minute captivating display of flying
precision and grace. The sequences are set to music and the live in-cockpit
broadcasts allow you to hear the Leads executive commands as they actually
occur. The nine red, white and blue CT-114 Tutor jets will crisscross the
Page-Lake Powell sky at speeds up to 412 knots.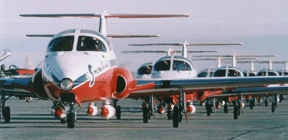 The Snowbirds will land at the Page airport. Come see the
Pilots as they continue another great show season.











---
See last years web Site | Other Acts in the April Show | Coming soon, this years site



---