AIR AFFAIRE
at Lake Powell and Page, Arizona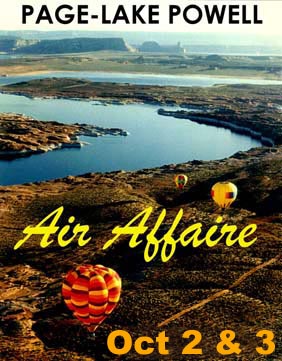 If you're looking for some real excitement, be sure to attend the Page-Lake Powell Air Affaire scheduled for October 2 & 3, 1998.
This year's event will feature new performances including a monster truck show and pyrotechnics. On Friday October 2, the gates will open at 4 p.m. A night show will feature 15 hot air balloons lighting up the event. On Saturday October 3, gates open at 11 a.m. for a day enjoy aerobatics and static displays. There will be special events for kids, refreshments and booths.
Fly-ins are welcome, but please be advised that space is limited at the Page Airport. Please bring your own tie-downs.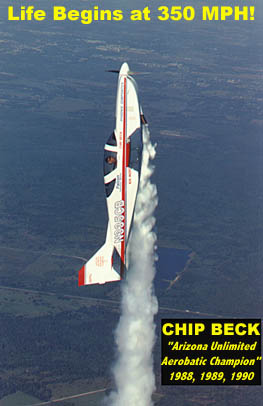 You'll witness some gravity-defying performances by Chip Beck, the Arizona Unlimited Aerobatic Champion for 1988, 1989 and 1990 and winner of nine unlimited competition titles. Chip will be flying the Falcon Aviation Insurance Glasair III, a super high-performance kitbuilt aircraft. He is one of only a handful of pilots to have earned all five of the International Aerobatic Club Achievement Awards. With warbird speed and maneuverability, the Glasair, under Chip's deft hand will hit speeds of 350 miles per hour and pull up to 8 g's during his performances. It's one not to miss!
Scott Hammack of California will be on hand with his jet ground performance, Smoke-N-Thunder. Scott has been involved with motor sports for over 40 years, with a 100% safety record. He combines his two loves, drag racing and aviation into this thrilling show.
Annette and Bob Hosking will return with a favorite of the kids, Otto the clown helicopter. Bob brings a lifetime of experience to his performance. With over 30 years flying, Bob is one of the industry's most knowledgeable and repected pilots. Bob and Annette have earned the distinction of received two of the most coveted awards in the airshow industry, the "Bill Barber Award for Showmanship" and the "Reader's Choice Award" presented by the General Aviation News and Flyer. The kids are sure to enjoy watching Otto blow bubble gum or play with a yo-yo. It's a special treat!
The 69th Battalion Special Operations Group will bring thunder to this year's Air Affaire. Explosive effects and pyrotechnics are sure to wow the crowds. It's a dazzling display you will feel more than hear. It's thunder and it's at the Air Affaire!
New to this year's show will be monster trucks! Misbehavin', a 1997 Ford Ranger, driven by Julie Christensen starts the action. You'll also enjoy Dragon Slayer, driven by Kreg Christensen. This 1997 Chevy S-10 is a favorite among racing fans.
The 1998 Air Affiare will also feature 15 hot air balloons floating gracefully over the beautiful Lake Powell landscape. This colorful display makes for a great photo opportunity.
There will be dozens of other performers at this year's Air Affaire. For ticket prices or more information e-mail verna@page.az.net or call 1-520-645-9373.
LINKS: International Council of Airshows
© 1997 Shelly James
Canyon Country Online
Post Office Box 8000-124
Page, AZ USA 86040
sfjames@aol.com